ANALYSIS

Summary

The proprietary APOD method is a robust screening tool for rapid evaluation of drug safety.

Context

First, consider a fragile package being delivered to your home. Second, the recipient should be available to receive it. Clearly, these two parts are different. Drug delivery is very similar.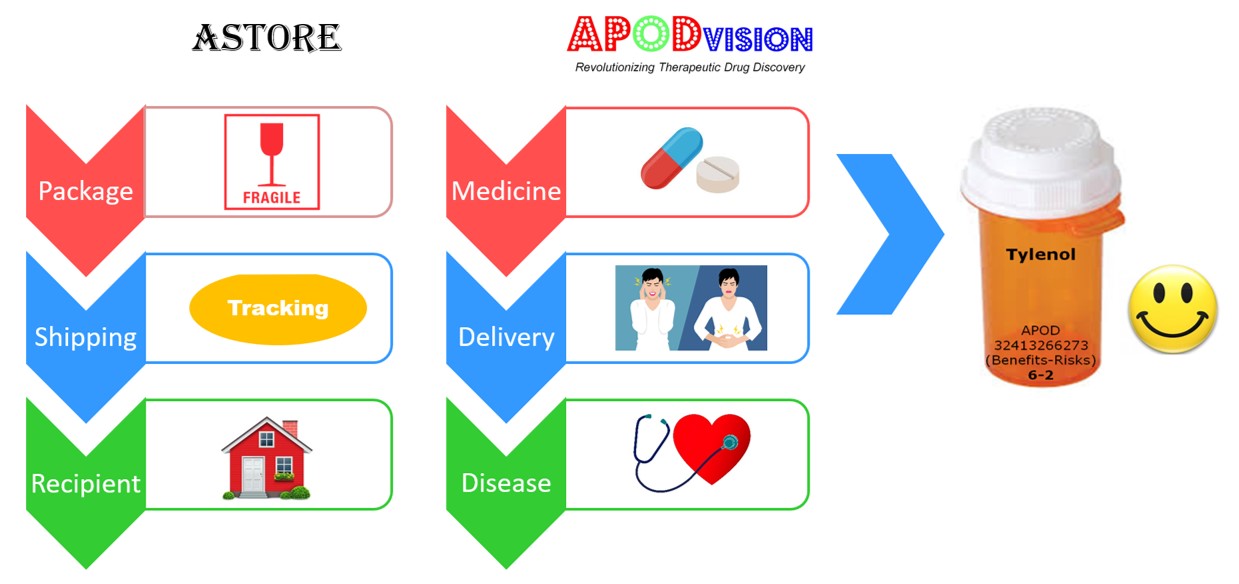 Is it acceptable if the package you ordered is not delivered on time?


Would you receive a damaged package?


How would you feel if your package is delivered to the neighbor's house?
APODvision's role is to ensure the delivery of the drug is safe. A specific disease target should be available to "receive" it (efficacy of the drug).
Approach
APOD uses the drug's chemical properties for a mathematical model to predict its pharmacokinetic properties. In this approach, all the properties are on the same scale from 0 to 9, thereby making any direct comparison possible.
Fingerprint
The numerical APOD (N-APOD) representation is concatenation of all property values as a single entity in terms of a fingerprint (WRGLSBADMET). It comprises of chemical (WRGLS), biological (B), and pharmacokinetic (ADMET) properties.
For example, the N-APOD for Acetaminophen (Tylenol) is 32413266273.
Insights
The APOD score is a pair of APOD values that represents benefit and risk presented by a drug and indicates whether the drug would be suitable as a therapeutic.
For example, the APOD score for Acetaminophen (Tylenol) is 6-2.
Here is the APOD values assoicated with benefits and risks are 6 and 2, respectively.
In APOD methodology, the drug safety profiles are classified as: strong, moderate, and weak.
Strong: Adenosine (8-1)
Moderate: Aspirin (6-3)
Weak: Triparanol (0-8)
Advancement
The APOD method provides an advancement in the field of drug discovery by unifying all properties in the fingerprint, making any property comparisons possible with uniform representation, and integrating pharmacokinetic insights into drug design.